He's not large and flashy. He doesn't soar on out-stretched wings. He doesn't perform a Mozart concerto. But this little forest bird is fast becoming one of my favourite animals in the whole world!
The Chucao.
His voice is enormous, like a gun-shot. "Chu-cao!", it echoes through the temperate rainforests of Chile. A feature that proves useful in this noisy land of thundering waterfalls and rivers.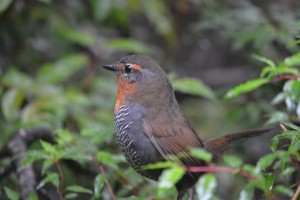 When we stalk into the forests to do our morning's bird survey, or wash in the forest-green rivers or when we collect water from a stream, there is a rustling. A little shape scuttles into the vegetation.
But he can't contain himself. He won't hide for long. A face bobs up, an eye, the flick of a tail. He's watching you. He wants to know more.
Then the explosion! He pulls back his head. His neck elongates and his name sake rattles around the mighty crowns of the forest, "CHUC-AO!!!!"