Hello, long time no chirrup!  A little off the theme of running, but very much ON the theme of wildlife. I have just released a brand-new children's book highlighting the wonderful world of nature. It's set to raise funds for protected cirl buntings. Cyril's Big Adventure details the real-life success of cirl buntings – a rare species of bird in England, brought back from the brink through the combined effort of farmers and conservationists.
The book, which I have written and illustrated, is a celebration of the return of cirl buntings and the other wonderful wildlife that we share our countryside with. 50p from the sale of each book will go towards the RSPB's cirl bunting project.
One of the most exciting aspects of my work with the RSPB has been my involvement in the cirl bunting project and seeing the recovery of this iconic bird. It may be little, but it represents a lot, because where cirl buntings prosper so does other farmland wildlife, including: brown hares, barn owls, arable plants, butterflies, bumblebees, lizards and bats; many of which are declining in our wider countryside."
Cirl buntings once lived in the UK from Yorkshire to Cornwall. Known as the 'village bunting', they often lived close to people. But changes in farming methods, especially with the push to intensify production after World War II, caused their numbers to tumble.
2019 marks 30 years of cirl bunting's recovery. In 1989, just 118 pairs existed in Devon. This year, there are a whopping 1,070 pairs in the county, with the majority taking up residence at Labrador Bay, near Torquay – a reserve specifically acquired for this once declining species.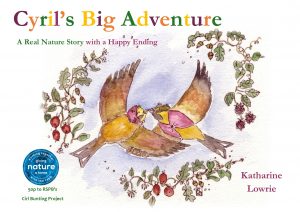 Devon still lies at the heart of their population, but this 'home-bird', that usually flies no more than two kilometres from its nesting place, has started to venture out in small populations into Dorset and Somerset, and also to Cornwall as part of the reintroduction project.
I have been 'addicted' to wildlife from the moment I could trundle off through tall grass and discover it under logs, in trees, or flitting above my head. Realising that ecologists existed was fantastic; that I could have a job counting and finding wildlife and plants, and ensuring they have a home.
As a mother of two (a three and a five year old), I can see first-hand how intriguing the natural world is to them and to their preschool/primary school friends (to whom I have taught) and to the many other schools I have presented to about nature conservation. I hope that this book will fly into bedtime stories and inspire children to find out more about the wildlife that lives on their doorsteps.
You can buy a signed and dedicated copy right here:  5000mileproject.org/shop.
50p from each 'Cyril's Big Adventure' book sold will be donated to the RSPB, a registered charity in England and Wales, number 207076, and in Scotland, number SC037654.
THANK YOU!