Welcome to the BigToe Blog! Here you can "sniff" all sorts of juicy facts about South America. You can view the "toe-clippings" about what we´re doing, thinking and seeing as we run through this extraordinary continent. Join us to meet the amazing wildlife, wildplaces and people that live here. Videos, photos, activity ideas, blogs in English and Spanish are all snoozing below, waiting for you to enter into our world………..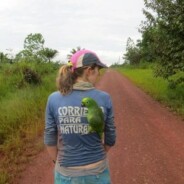 Yesterday I was at a really low ebb.
We had run nearly 18 miles and the thought of the next four we planned to run was just hideous.
Sweat was pouring off my limbs, my feet felt jarred and knees hot and sore. My chin was heading for
the floor as I ran curled up, tired, terribly, with my feet like claws. My running style was desperate, ripe for an injury.
When we finally hit the 24 mile mark, I collapsed (more…)