You can click on posts to read more, and

click here to subscribe

to our occassional newsletter from the road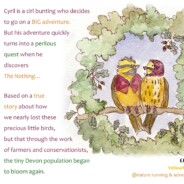 Hello, long time no chirrup!  A little off the theme of running, but very much ON the theme of wildlife. I have just released a brand-new children's book highlighting the wonderful world of nature. It's set to raise funds for protected cirl buntings. Cyril's Big Adventure details the real-life success of cirl buntings – a rare species of bird in England, brought back from the brink through the combined effort of farmers and conservationists.
The book, which I have written and illustrated, is a celebration of the return of cirl buntings and the other wonderful wildlife that we share our countryside with. 50p from the sale of each book will go towards the RSPB's cirl bunting project.
One of the most exciting aspects of my work with the RSPB has been my involvement in the cirl bunting project and seeing the recovery of this iconic bird. It may be little, but it represents a lot, because where cirl buntings prosper so does other farmland wildlife, including: brown hares, barn owls, arable plants, butterflies, bumblebees, lizards and bats; many of which are declining in our wider countryside." (more…)