It's 5.00 am and our 'on- board office' is whirring. We have one more day to fight through grant applications, harass sponsors, colleagues, friends and family, select our conservation charity and build our 5000 mile project website.
I have just stuck my head through the companion way. The sea shimmers in the golden morning light and the jagged snow-capped peaks of the Andes stand like a line of formidable dentures behind us! We're anchored in the tiny fishing cove of Rilan, on the east coast of the undulating island of Chiloe.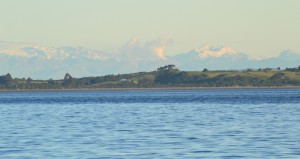 Yesterday our floating office pulled from its buoy in strong winds and we awoke to the shore rapidly advancing. This necessitated a brief cessation in applications, finding an anchoring spot and then fixing our sights on the computer screens once again.
In the evening, waves rocked our tapping computers. This time it was only the Chilote wooden fishing boats streaming home from the channels. With lots of tugging and shouting, they gradually pulled themselves together in a woven 'street' of boats. Soon wisps of smoke were spiralling above them as they prepared their evening meal of 'mariscos' (sea food).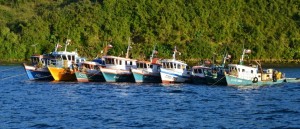 Tonight Dave's sister and our Chilean mate arrive. Tomorrow we fill the boat with fresh vegetables The day after we pray for North winds to blow us south. Dave has welded rope barrels to spin out our shore lines to secure us to fjords; a new chunk of steel for the anchor davits and a new bimini frame for shelter from southern Chile's infamous 'balmy' weather.
Our quest is to head south, round the southernmost tip of South America, sail to the Falklands and then north to Uruguay. There we will leave our precious old home (Lista Light) in the comforts of 'agua dulce' (fresh water) and catch a bus north.