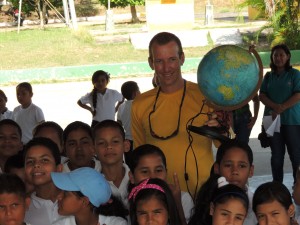 Katharine and David have a passion for wildernesses, wildlife and adventure. It fuelled their sailing circumnavigation of South America (2008-2015) and their 6,504 mile run (1/3 of which was barefoot) along the length of the continent (2012-2013).
Along the way they recorded the wildlife they met and taught at schools, many of whom had never had an outside presenter, let alone two from the other side of the world. They undertook the first complete breeding seabird surveys of the Eastern Caribbean and then wrote the Seabird Atlas in the Orinoco River.
In September 2014, a new member of the team arrived, baby Theo. He sailed home to the UK with them, on a five thousand mile voyage from Uruguay, via Brazil, to Falmouth, the last leg being two months of non-stop sailing.
David and Katharine weave ecology, geography and adventure with the unique stories of the people and wildlife they have encountered, on their expeditions into some of the most remote places on earth.
They inspire action, determination and perseverance and the belief that each of us, individually, can make a difference and can overcome seemingly insurmountable challenges.
Journey with them into the heart of the Amazon, over the Andean ridge, deep into the Pacific and the Atlantic Oceans, in the company of blue whales, scarlet macaws and giant anteaters.
The pair have presented to universities, secondary and primary schools, businesses and interest groups in the UK and throughout South America and the Caribbean.
In addition to inspirational and motivational talks, they have also delivered specific geography and ecology case studies and expedition planning and execution seminars to A 'level students and primary school children, based on their first-hand experience in the Americas.
Prior to their expeditions, David worked as a Management Consultant for Accenture and Katharine as an Ecologist for the RSPB, which she has returned to now.
WHAT PEOPLE SAY:
KEVIN COX, Chair RSPB,
"What does it take for two people to run the length of South America towing a home-made trailer with all their belongings and provisions? To survive waist-deep snow, ice-cold rivers and the sizzling heat of the desert? To see terrible poverty and experience great generosity and kindness? To dodge trans-Continental juggernauts, sleep wherever exhaustion overcame them and to get up and do it all again the next day? And to do most of it barefoot, whilst recording the wildlife they saw and inspiring all those they met along the way? It takes extraordinary courage, resilience, superhuman endurance, mutual trust and support, and yes, it takes a certain sort of madness. The same qualities that conquered Everest and took us to the Moon. Katharine and David have all of this and more. This is an epic tale of adventure that deserves its place amongst the great feats of endurance from the past and Katharine tells the story with such humour and charm that her audience is held breathless and spellbound."
HRH PRINCE CHARLES,
"I am hugely impressed that you are undertaking such a gruelling and challenging 5,000 mile run for such a vitally important cause and I pray you will not have too many blisters, mosquito bites and other travel scars by the time you return from such an extraordinary marathon (…) I send you both my kindness good wishes and admiration".
SIR RANULPH FIENNES,
"The Lowries combine rare talents for study and education. By opting to explore and live their lives in a more natural world than most of us, they can usefully share experiences and stimulate young minds with their discoveries. Since I first met David and Katharine, I've been impressed by their commitment to inspire without preaching as well as their relevance and importance in an ever growing, commercially exploitative, world".
JOHN DAVIDSON, Exeter School,
"Katharine and David are inspiring speakers who produce very interesting and relevant geography and ecology presentations. They draw on their wide and varied experience in South America and the Caribbean with the added fact that they have actually spent time in these regions studying the local fauna, flora and environment. Their talks are very well prepared and they can tailor them to a variety of age groups from years 5/6 to GCSE and A level".
NEIL RUSHTON, Exeter University,
"Katharine Lowrie weaves a wonderful story of her journey with her husband through South America. The Heroic age of exploration has passed. However in that true tradition they run unsupported with sustainability and education as their watchwords . They have inspired future doctors on the course I run on Wilderness Medicine for students at Exeter Medical School. Katharine's inspirational talk accompanied by readings from her book are a great way to spend an evening." 
KATE WHEATLEY, Blundell's School,
"We were incredibly fortunate to have Katharine Lowrie be part of our senior school Enrichment Program. Our Years 11-13 pupils thoroughly enjoyed her honest, humbling and humorous talk detailing her and her husband's incredible journey across the South American Continent. They loved seeing the equipment she brought with her to display and were clearly taken aback by the their sheer courage."
CHRISTINA PUGSLEY, Down House School,
"Katharine gave us such a fascinating, inspiring, and though-provoking evening; I certainly plan to invite her back to Downe House again.  She brought the inspirational account of her journey through South America to life, showing that ambitious dreams really can be achieved.  Through her narrative, which was expertly balanced with humour and sincerity, we were introduced to various running ailments, how to creatively carry out "DIY" with limited resources, different cultures, wildlife, and habitats, and could really start to fully appreciate from afar the negative impact we are having on some of the amazing and fragile ecosystems she travelled through. If you are looking for a speaker to give a talk which will engage an audience with a wide range of interests such as human nature, physiology, ecology, travel or those who just enjoy listening to the story of someone else's adventures and experiences, Katharine's talk is the one for you".