Bamboo, bamboo, Bam-bleedin-boo, everyone is going on about it as if it's the latest saviour to improve out lives, you can build with it, wear it in clothes and sunglasses, join a society in its honour, roll around in it conducting your private life, and now even wipe your bum with it! But whats that got to do with us??!
OK –bamboo is now en vogue in the West (even though in east they have been using it for all of time for construction), but as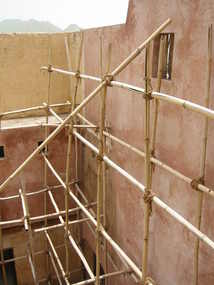 Kath and I edge ever nearer to the precipice of the startline for the 5000 mile project – what on earth would something that we knew as panda food have to do with a running expedition through the wilds of South America?
Um, rather a lot actually. I have been struggling with the trailer, those following on facebook will know. Since its imacculate conception on paper, its less than comfortable birth into the real world has been a painful and bloody labour, and, to continue the child analogy, I'd say we are in the wilderness years. Less than 8 weeks til we start and still it doesn't exist, I wake most nights with an idea borne out of an incomplete understanding of physics, of how to amend the hinges, or harnesses, or should we just buy and push a running pram instead? I have been bogged down on this simple task for too long. We are doing something tough and I want to trailer to be as professional as possible, fit – for- purpose and impressive. Perhaps the ego is getting involved?
Then Sandy and Max turned up. These are two sailors we'd met previously in Chile and it was some surprise to see them here, half the world away. They are lovely. Max is an engineer, and a rather incredible one.  Engineers are perhaps a forgotton breed as we consumers like to deal with our increasingly simplified interface with the "real world", with as many degrees of seperation away from these curious men (and women) with beards and sandles…. as possible. They like pencils and pieces of paper so I mused aloud about the trailer, and subtly rolled my dog-eared workbook to a blank sheet and a pencil which he instinctively clasped and connected with the page, snapping the lead.
Max considered the issue for a few minutes playing devils advocate, and then gently smiled and stood back a little, straightening his spine, content but not smug.  He was forming a view with the benefit of an uncluttered vantage point.
"So you want low friction?", he asked rhetorically, "And its got to take the pain away from you, and allow the body to twist in motion?", "And you want to be able to fix it anywhere?", "And you don't want it stolen?" he added is his australian clip.
"And the expedition is about being low impact on the environment?".
He went on to make several other statements that I should imagine were spot on but were somewhat myred in co-effiecients and ratios and torsion metrics that I would also be wanting and, fearful to arrest his "flow" I merely agreed with encouragement-  I wasn't in a position to disagree.
"David, Aluminium is a hungry industry, it takes a lot of energy to make". He wasn't impressed with my thinking thus far.
"Bamboo and bike tyres, that's what you need".
Pause. And then the idea was borne out.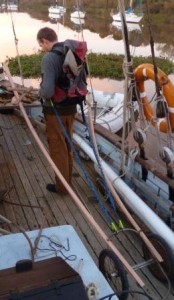 Bamboo because a) its strong, b) available everywhere and therefore not just cheap but free, and c) subsequently unattractive to a thief, d) easy to work with, e) an unhelpful invasive crop in most parts of the world which needs removed and f) comes with a superb strength-to-weight ratio.
The frame of the trailer needs to be sprung, not only to the load behind, but also sideways to the runner (I later amended this to forwards in the mock-up, keeping the body isolated from all points of the frame and the load naturally suspended 90% on the axles but unable to overrun us on its freefall down the Andes). This  suspension would be achieved through strips of old bike inner tubes. Re-cycled, incredibly strong if bound correctly, and ubiquitous.
Now we are tidying up rubbish as we go along – genius!
The wheels need to be twice as big, it needs to be wider to improve stability, and old bike forks can supply the frame. String lashings and lateral bars provide diagonal strength but the inner tubes provide rattle-free seizings with a vital component of dampening within them.
Simplicity is the key. There will be no significantly expensive parts, fixtures or fittings and it should be possible to repair components or the whole lot ANYWHERE in the world.
The prototype was mashed together in minutes, not hours, from some timber around and bungee clips and life jacket harnesses, and was a revolution in terms of comfort. The idea has been rebaked and now it should just be a matter of rebuilding it in bamboo, and fine tuning.
So where are we with our newborn? I'd say today we are still teething, but the end is in sight!!!
Addional resources on Bamboo:
Bamboo is an invasive plant in many areas, and if not managed properly can be just another harmful monoculture. The following blog is a response from the industry to a criticism run in a UK broadsheet questioning the ethics of bamboo and provides some thought provoking detail to sourcing bamboo.
http://blog.greenearthbamboo.com/20110722/bamboo-sustainability/green-earth-bamboo-green-not-greenwashed/