Ok, so for those of you that know us, I'm not sure you would class us as athletes?! In fact David's father verified that fact when we first mooted the idea of running the length of South America! But we do do distance. We have specialised in hurling ourselves up and down fells, mountains and valleys in and along the up-lands, lowlands and coastlines of Britain for a good 15 years and have competed in some crazy off-road races with the lean "dogs" of fell racing…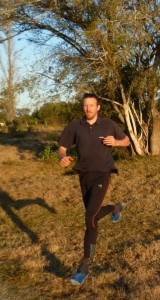 But athlete or not, in the unnatural world of asphalt and broken beer bottles there is one item that we desperately needed: RUNNING SHOES.  Running shoes, for our quest to RUN between 15-25 miles per day from the south (54 degrees south) to the north (11 degrees the other side of the Equator) of South America for a year.
If we couldn't entice a footwear company to give us a few pairs of running shoes, perhaps we should just crawl back under our respective hedgerows and give up on the whole plan?
In steps the friendly team of INOV-8, with a new base just down the road from Dave's local city, Newcastle.
But why did we choose INOV-8? After all there are a plethora of companies specialising in running shoes on the market:

We need light weight, durable shoes = Inov-8
We're keen on minimalist running= Inov-8. Inov-8 provide "transition" shoes with gradations of heel that allow the body to gradually and gently adopt to the new lighter, more natural style of running.
The environment is central to our expedition: Inov-8 has begun to investigate how it can reduce its environmental impact, including its ecological footprint .
We're both fell runners- a breed which Inov-8 recognizes and supports.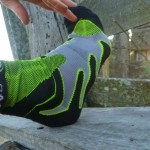 So now not only do we have two pairs of Inov-8 Terrafly trainers each , but also debris gaiters to keep sand and blisters at bay; "wrags"- the ultimate chameleon with an ability to  morph between sweat band, head-neck-wrist warmer and hair band; two Race Pro rucksacks, two horizontal bladder packs and zillions of Prosocs. (For "gram-counters", the weights of all our kit items will soon be posted on the website).
We have already started running in the gear and it's proving snug and confortable….long may the blisters stand at bay!
THANK YOU INOV-8!!!!