According to the plan we laid out for the first month we should be running machines by now, easily chewing up 100 mile weeks – are we?
The last section has been a real challenge for our bodies, yet again forced to take 10 days worth of supplies for a lack of replenishment opportunities permeate these out-of-the-way places we are meandering through. There are simply no shops to buy food.  So instead of taking rest days within the running sections we have asked our pleading feet to run the 152 miles non-stop.
It took 8 days.
139 miles in the last week, including a rural border crossing to Argentina. The numbers look good, amazing really for these two ill-prepared corpses trotting through Patagonian winter, so are we running becoming the machines we need to be to make this challenge?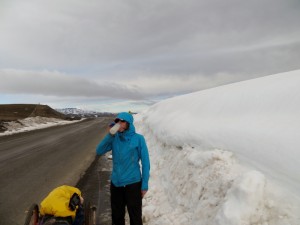 The feet say no! But Kath has athletes foot which I suppose by name at least is a good omen. Our arches still hurt but up to first 15 miles each day they are not screaming each step (they do the last 5). We have 1 blister between 2 people, which is astonishing really. The logging of wildlife means the running sessions are pocked with stops planned and otherwise but these are the treats we are running for, our legs welcome any opportunity. Our bellies grumble in the night but are being well fed during the days. Not quite running machines, but we are starting to adapt.
Day 1: 14 miles            Leave Pto Natales,  Night in Tent, no snow
Day 2: 20 miles            Night in tent, snow in morning
Day 3: 17 miles            Camping on Ice – Cross toArgentina
Day 4: 23 miles            Camping on Ice
Day 5: 20 miles            Bivvy in Estancia butchers shed
Day 6: 20 miles            Bivvy in Municipal Bothy
Day 7: 20 miles            Camping on ice (trouble as mrs lowries wet wipes freeze)
Day 8: 19 miles            Arrive El Calafate . . . off to bed – rest day tomorrow!