As I write the rain is pummeling down on the thatched roof of the Hostel– a sage reminder that the "dry" season is not entirely sure it has arrived. And a reminder too that the decision we took to run 150 miles west to avoid the inundated wetlands in the middle of Bolivia was probably the right thing to do. Had we not, we could have been seriously cut off today and unable to go forward or back!
We are in Santa Rosa, in the northern Province of Beni, Bolivia. The flags on our dynamic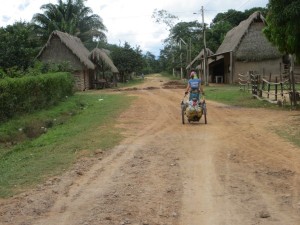 map at the bottom of each page on our website are correct, we really have gone sideways! Over the last 3 weeks we have yet to change a degree in latitude, the most important measure of progress on our challenge. Today though, we get to step north again into a new degree! For the next two weeks we will be in the most remote corner of Bolivia, and will not run past more than a few isolated
communities in the next 420km / 260miles. Bags are packed with 2 weeks of provisions, hoping to reach Riberalta on plan, before our visa runs out. Due to the extra burden on the trailer of 14days of provisions we have had to put ourselves onto a diet if dried foods only, no fruit/veg for this leg, unless we can find it. There are some options for wild food – the best of which is also the food of our beloved Blue-throated Macaw, the Motacu palm nut! It's half way between avocado and banana in flavor, and a real bugger to get into!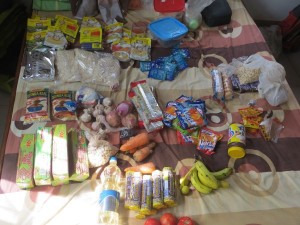 We had been researching options for a long time about how to handle this big diversion – and couldn't ever really believe it was going to be necessary. Information on much of the route to date has only been available in the town before, any further away and the details became sketchy or opinions a touch wild. I hope this blog may help fill the void for others wanting to pass through this way. Midst the weight of evidence to the contrary, we ran on, hoping a solution may just drop into our laps. We are, after all, quite prone to opportunism! It nearly did – we discovered an ill-defined route (yellow below) taken by black-market goods vehicles and probably narcotics too, very direct between Puerto Silas to Guayaramerin , but it's only possible once the waters of the rainy season have subsided. It was borderline and for once we opted for caution. Then we played with the idea of breaking the route, using transport to bridge the gap West. Tempting though it was, it would have muddied the waters on our record attempt, and we decided the most important thing was to remain very clear on the logistics rather than risk a "Garside", (click to find out more).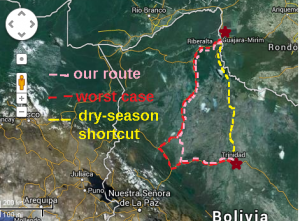 So, damage limitation was our only option, and despite various counsel to the contrary we headed west on dirt roads but snipped a bit off by electing a shortcut through an enormous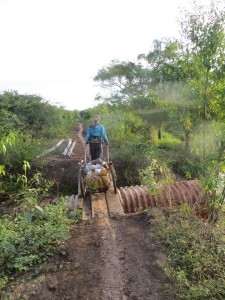 estancia, saving hundreds more kilometers. The "Nogales" pass (in pink on the map, the shortcut is line where it is separate from the red line) has taken three days and has been a highlight of Bolivia, and in fact the whole expedition. The road, or path, is 100km long and the last third only really passable by two wheels, in whichever configuration they happen to be. The trailer performed brilliantly. A multitude of rickety bridges hampered progress, some we had to be very careful on, literally inching forward, making sure both wheels were just on the hewn palm makeshift causeways. Caiman waited below, though to be fair, it would be an exaggeration to say they were man-eaters!
Hunting and fishing are prohibited on the estancia, and wildlife abounds. We camped alongside a troop of massive capybara, an overgrown rodent the equivalent size and function of sheep at home! They chewed water plants noisily all night and were relieved to be able to pass on their midgees to us! Night hawks and snakes, roseate spoonbills and a mountain of other waterbirds shared the bog with us as we zipped forward on our ancient causeway, aside wetlands and cattle-grazed clearings. 10,000 cows shared the route with us too.
We also chanced upon a community midway, farmhands for the estancia, with a tiny, rural school. They didn't have a projector, but we did, and had a fantastic little session with kids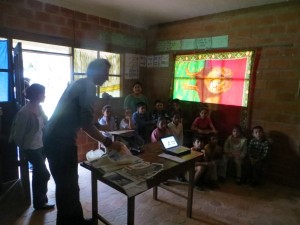 from 5 to 12yrs old. A chance to play our new board game too, painted onto one of our tarps. Everything must serve at least two purposes in our kit! The community leaders joined too and in some ways we were actually tailoring the message to them as much as the children; they cohabit a wonderful natural asset here in their home, and that there are little things they can do to make sure it doesn't become contaminated or species endangered by the pet trade etc. We have mentioned before I think that we are not obliged by any of our grants to do these sessions but that our self-imposed target of teaching 1000 kids about ecosystem services has proved to be an incredible pleasure, and, although terrifying at times, has become a real motivation to keep edging forwards. These rural schools are not visited much, expectations are fairly low, and with a class of 24 there is no need for nerves. As Kath presented her slides I leaned into the wall, watched the class, gazed out the window and really relaxed.
OK – rains passing, time to run…… we leave some some photos to help fill in the gaps of this curious diversion!