If you could design the worst training plan imaginable to prepare for a long distance run, what would it look like? For sure you would put a restriction on the amount of training miles the competitor could run. You would ensure they were physically exhausted by the time they arrived at the start line. Perhaps you would restrict elements of their dietry intake? Maybe, if you had a sadistic streak, you might even deprive them of sleep? You'd definitely consider not allowing them to train with the equipment they'll be carrying in the race. And you'd also want to distract them from training with a myriad of other tasks to challenge their focus. Ok, looks nasty.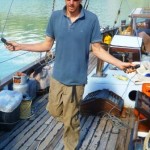 I am writing this blog from aboard Lista Light, our home, a 50' sailing boat, 77 years old, upon which we are venturing towards the start line of the 5000mile project. This journey will take up most of our time for the next four months, at times through the most turmultuous and heinous seas in the world, from the patagonian channels south, round Cape Horn then north up through the South Atlantic to Uruguay, half way up South america on the other side, where we will leave her in a  safe harbour whilst we run. Its something that we have to do for beaurocratic reasons, but also a chance to recce sections of the route whilst traversing a part of the world which is staggeringly spectacular, if not a little savage, so we don't deserve any sympathy.  It does, however, look a little bit like the training plan we just designed above… there'll be mixed up sleep patterns, stress (and fear, read kaths article here) of surviving storm curdled seas, limited opportunity to run ashore,  physical hardship and seasickness, and no more fresh food for another 600 nautical miles….
Not ideal – What are we planning to do about this?
Adapt. Basically you don't have to run 26.2 miles to train for a marathon (not to say you can't, but you don't "have to"), but you do need to be in good shape, physically prepared with flexible joints, well exercised heart and lungs, and, preferably, muscle tissue with the right conformation. So we can extrapolate a little for the 5000 mile project. Here's the plan B:
Flexible joints. Physiotherapists know that the majority of running injuries are more to do with muscle and vital ligament condition rather than cardio vascular fitness – the latter effects your times but you won't even finish if you get an injury. All we need is 7' x 6' of clear space and stretching takes place on board, just infront of the mast, nestled on the foredeck. It's easier in port of course, but in all but nasty conditions its possible underway.
Well exercised heart and lungs. We love real running, out on hills prefereably, but just as good can be a small section of ground in which we do interval training – running relays hard for 1 minute and recovering for one minute of lighter training, again and again. Where we can't even find sufficient space for that we must take to the decks of our little ship! Not as crazy as it sounds. If no other option is available because the shoreline  is completely entangled with tight wooded knots then we retreat to Lista Light and run in a tight circle. It looks demented, guaranteed, but in fact is reasonable training given a change of direction now and then, and trains for stability too!  Interspersed with skipping, which is fantastic for core stability, and you have a thoroughly knackering training session on, not in, the comfort of your own home!
Muscle tissue. Building and keeping the right muscles will be a challenge without training with the trailer. But all is not lost. Because the 5000 mile project is purely an endurance run, and a year long challenge, we can carefully taper the distances at the beginning and as such benefit from a "training effect" i.e. we will condition the muscles as the challenge progresses. Being injury free is the key to our success, not making the first 100 miles in record time. So as long as we keep our muscles long and carefully stretched then they can adapt as the run progresses.
Its not ideal – but adaption is the rock of human survival to date so we have a plan . . . !!!