We are currently minutes away from resuming the run, and what happens next promises to be interesting. Last week we had to cross to Argentina to bypass the Campo Hielo Sur (Southern Ice Field) , a dramatic natural barrier which literally slices through Chile and makes the country only pasable by 3 day ferry overland via Argentina. We are bound to the Argentina route, nevermind the extra kilometers we have had to run!
But now we have a difficult choice, head over a very rural pathway to cross back into Chile as far South as possible with the risk of having to return to argentina if any of a triad of risk factors should emerge; Police, Path, Ferry, or make an enormous 1000km workaround.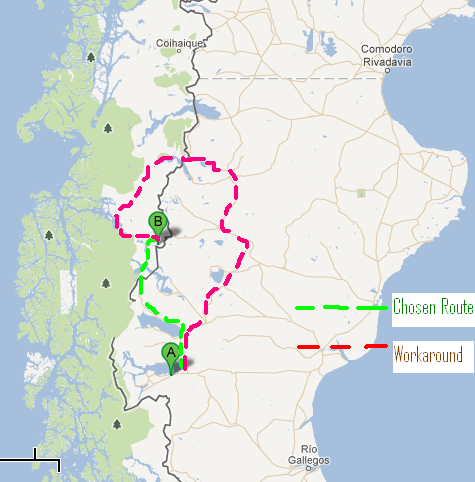 For details of the route which is only recommended in the Austral Summer click here (ECH_VOH_ 2011-2012_Eng)The path we think we can run, although almost definitely we will need to collapse the trailer and carry it with us, as research shows the condicion (click here). The police an immigration controls look passable, at least with a little massaging to make sure we havent broken any laws as we pass these countries without immediately getting paperwork. That leaves the ferry. There is simply no other way over Lago Villa O´higgens. We are out of the season so it is not technically running but our amazing contact in Chile has somehow found a way to talk to the driver of the boat and on a government contract he has to make the crossing even in winter to supply the tiny settle ment of Candelario Mancilla, so we have an option… thank you Maria of Patagonian Trails,  yet again!
The Kilometers we gain artifically from the ferry will be rerun to make sure there is no accusation of assistance!! So off we head with 10 days of supplies once more weighing our trailer down but more optimistic about making out route then ever before. We should know in the next 10 days what is going to happen on this curious livestock trail thats passes for a border . . .