OK – so the running is over and our bodies are in repair, but so often our minds are carried back to South America, the expedition and the incredible landscape by the many reminders we see in the products that we consume here at home in the UK. Sugar from Paraguay, Brazil nuts from Bolivia etc etc. We feel we know South America so well now, and how can we be sure that the products we buy here in Europe, and consumers throughout the world buy, are any good for the continent where they come from?
We caused a bit of a stir by criticizing "clictivism" in an article published whilst running last year  when at the same time we as a group of western consumer so often buy products cheaply which cause environmental (and social) degradation in the lands where we are seeking to protect. We don't want our buying choices to cause harm, so we were delighted to find a company on our wavelength who are now supplying the products we need to eat in an environmentally sensitive and ethical way as possible – Essential Trading.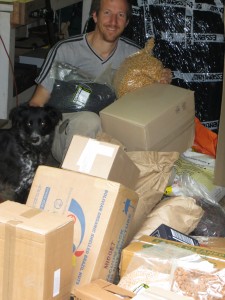 We have set up a buying group amongst family to start with, and it is amazing to see Fair trade, Organic, GM free crops being delivered to us 24 hours after we order them, in quantities that reduce packing, and using Essential Trading carbon-neutral supply chain! Our garage now smells like a heady mix of raw cane sugar crystallised ginger, organic sun-dried tomatoes and fairtrade coffee (and possibly the most amazing raw chocolate on the planet!). So it's a good time to come and visit us!
And just to cap it all off – because of the quantities we can order between the family group it works out cheaper than Tescos, and for much better products.