I am writing this blog from my fingertips in the warmth and safety of a pitstop in a B&B, but in reality it was etched in my memory 4 days before. I am in the back of a 4×4 pickup being whisked along in the dark with the Magellan Straights to my left, my wife and sister wedged behind me seeking some shelter behind the cab from the 60mph sub-zero wind that is threatening to drive us silently into hypothermia, and my hands are clutched deep into the thick pelt of a husky hound to maintain some sensation. His eyes are watering with the wind chill but he is better adapted than me. His whole being is designed for this. He seems to forgive my intrusion. I can feel his body warmth deep inside his pungent pelt maintaining life in my bare hands. Soon his running partner, another psychotic husky we had met on the trail some hours before, warily, bows to the wind and gives up scenting the air, buckling from his talismanic poise. Thankfully he braces himself right on top on my numb toes. yes! I've been trying to coax him down for some minutes but he resisted, and I know there is a limit to how far to push a feisty husky. That's better. My jacket whips around my face with the icy wind but i dare not remove my hands from their warm place. I check the others are still ok – we know the ride is going to take a little time – be we'll be OK if we huddle, us five (Me, Kath, Fiona, and the two heroic huskies – I didn't even get their names which seems impolite given how they'd preserved me).
Some Chronology:

Pre expedition Day 1 – Bus to road end with all gear, Camp in deep snow.

Pre expedition Day 2 – Day 3: Walk out to southernmost point of South America, Cabo Froward, ready to start running on 28th July (Good instructions on wikipedia, click here)

Day 1 – Day 2: Run back from Cabo Froward to civilisation road end, and our stashed gear.

Day 3 – Day 4: Return to Punta Arenas after thumbing a lift to resolve medical and kit problems

Day 5 – Day 7: Re-Return to road end with extra kit – run to Punta Arenas
[button link="http://www.5000mileproject.org/2012/08/new-video-finding-the-start-line-deep-snow-and-icy-river-crossings/" newwindow="yes"] CLICK HERE FOR A GREAT VIDEO MASHUP OF THESE DAYS[/button]
How did we get to be in the back of the 4×4? It wasn't in the plan. We had set out to find the southernmost point of the continent to start the run with lightweight packs, but sufficient to survive. We reckoned on 4 days to make the trip out and back, where we could rejoin our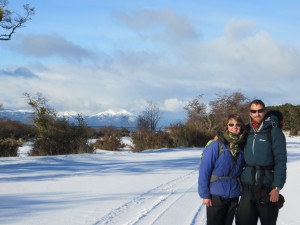 gear and start to run with the trailer. We'd stashed it all in the only buildings available in the tiny hamlet of San Juan. The owner had explained after accepting custody of our gear that it was a rehabilitation camp for alcoholics, oh well, several thousands of pounds worth of gear were in the fidgety fingers of 3 or 4 chaps who had been removed from all temptation in this winter wonderland.
The first day would take in one simple river crossing across heavy flotsam and 15 miles walking. The weather was acceptable by Patagonian standards, the scenery and wildlife of course were the talking point. We excitedly chewed up the miles and walked into the dark until a forest section beckoned a camping spot. We were excited, kath harboured a cold but was optimistic as ever. My sister Fiona had come along to provide the vital photographic evidence (but would not be allowed in any circumstances to take any of our expeition gear).
Things started to unravel slightly on the second day. Firstly, with the days so short in the Austral Winter, and our gear reduced to a minimum to allow running, we simply couldn't afford to lose anytime to searching for the path. After a frustrating hour of pushing through virgin woodland to bypass a section impassable at high tide that's exactly what happened. A river appeared in the wrong place, and it took an hour and us wading up to our waists to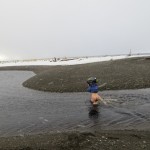 forge it, packs overhead. Had we not been graced by Puma tracks in the fresh snow by the river moods would have been severely dented.
By the time we had crossed the open moorland waist deep in snow this time we were late on the second real river. We had already decided to swim the short, deep section of the river rather than trying to work our way upstream getting wet and frustrating trying to identify a better spot, prolonging the agony. We developed a system to swim the river naked, carrying a rope, then gradually ferry our gear across in drybags on the rope. At 50m the river was an minute long swim. I measured the temperature at 1 degree, snow melt, but just.
Up to my knees I enjoyed the bodies curious reflex of a heat sensation. As I forged forwards and the level reached my waist the pain of freezing water bit. The bottom shelved rapidly and there was no real scope for anything but to swim for it. I swam keeping my head up, with the sensation of the water being hard rather than cold. The swim didn't feel long and before long I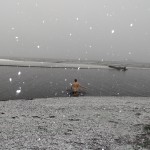 emerged unscathed and perhaps smelling more sweetly that I had entered. Stooping over against the wind, slightly frozen with ones clothing and vital equipment being pullied across the river is a humbling experience and even though the only audience was the wild mountains i found it deeply embarrassing!! This process was repeated by the others, and a full hour had been taken by the time we had reassembled, re-clothed and tried to regain some warmth internally from a plastic MSG tinged soup from a packet.
After many more miles and another river the night frustratingly drew in, as did the tide. We were forced up on to the rocks for certain corners and the fun seems to ebb, as worry flooded with the tide. Footing was dangerous on the tidal rocks, every few metres we had to either ascend or duck under ancient fallen trees and landslides. Going was slow. At one stage kath slipped backwards at an awkward section and partially submerged in the sea, already suffering from cold she became freezing. With heavy snow falling and light failing we sought any potential site we could to erect the tent. All we found was an old landslide with deep wet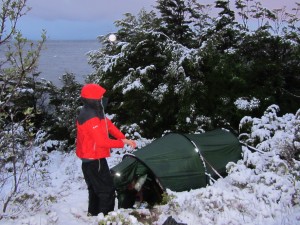 grass and shrubs at a fair slant. We made it home for one of the wettest and coldest and longest nights i have ever spent outside. One airmat failed reducing our buffer to the snow below us, and kath and fion spent the night trying to combat gravity whilst inevitably slipping into the downhill side of the cramped accommodation. The result of the extreme humidity, heavy wet snow falling on and off, cramped living and lack of ventilation was wet down sleeping bags- severely limiting their ability to maintain warmth. Already at their limit of comfort we began to worry as Kath hacking cough confirmed we were perhaps cutting things a little tight out here, at the end of the continental world.
Putting on wet clothing is never much fun, but somehow it seems obnoxious when the ground is white, your pack is a few hundred grams heavier with half melted snow and you've barely slept. We edged forward with another high tide, and almost immediately found the trail, and there it was – the sea once more with a path leading inland toward the Cruz de los Mares. So we had found the most southerly point, and whilst i would have love to have climbed the extra hour up and back to the cross, the symbolic white marker, in geographic terms at least we had found our start point, and in a slashing side wind and fresh snow falling we recorded our first footsteps North on the 5000 mile project.
The remainder of the first day of running and walking on the trail we had already trod was dominated by those final two river crossings we made once more – in much worse weather. A blizzard raged on the wide river crossing. Bags were whipped away by the wind and the foil safety blanket ripped from our bodies. It didn't matter though – we were on our way out, and we had our tracks to follow. A we entered the thin cypress forest the wind died, moon rose and we found ourselves in a sublime state – exhilarated by starting the expedition, elated that we would no longer have river crossings to make, and safely out of the vicious wind. We ate well that night and had the luxury of a flat pitch for the tent. We huddled for our final night before we could emerge from this worrying, exposed spell.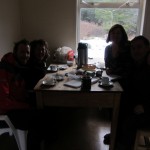 One last task remained on the final day. Tea with the lighthouse keeper! Some miles before the road starts is a famous lighthouse come lodging, and its caretaker and his wife would be our hosts for some of the sweetest most lovely nescafe powder coffee to have ever passed my lips, and a chance to wax about the wildlife we had encountered (or tracks we had just missed!)
As the night fell once more we marched out of the forest short on calories but high. Our kit had suffered and we were too cold, but we could work on all that with time, for now we'd be ok. Kath and I decided in those last miles that before we began running that we absolutely needed to kill her cold which had deteriorated with the exposure, collect our final kit package from Patagonia Inc to protect ourselves better, repair the airmats, and dry and modify our sleeping bags into one big warm bag. We didn't expect to be stopped in the road by two pygmy owls mating and, in the time taken watching have a chance meeting with a 4×4 owner out running his two incredibly wild huskies. He pulled up, we showed him the owls, he offered us a lift the 70kms to Punta Arenas which at first we refused. In a bizarre twist involving pulling another pickup out a ditch (replete with gran huddled outside in the back) we changed our minds on the lift and now I have my hands deep in the mane of the dog on my way to shelter.