14the November 2012 Llao Llao, San Carlos de Bariloche, Argentina
We  crossed the border into Argentina last night; from the temperate rainforests of Chile into the rain-shadow on the other side of the Andes.
We found a field which appeared public….hmm… turned out not to be and while eating Dave's spaghetti and garlic concoction the frantic owners, who had been warned by their concerned neighbours, started flashing lights at the startled squatters! Talk of police … was luckily abated and we were "invited" to stay!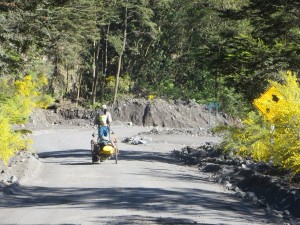 Early this morning a Jersey cow arrived on a long rope with her owner. While she grazed, I chatted to the lovely owner and he offered us water and a shower … score!!!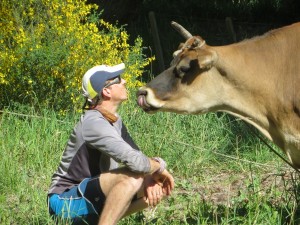 So we are clean and have a new message for the book in which we are gathering thoughts from people whom we meet along the way about their views on the wild places and wildlife of South America. The kind owner wrote, how great it was to "find" people like us who are so committed to wildlife and conserving ecosystems etc…. he failed to say.. " in his garden"!
Now we're in San Carlos de Bariloche, having a quick update  and searching for:
a map (ruta 40- the road we will be following  north for much of the way)
dictaphone (for the ideas we have as we run),
memory cards (we're assimilating a lot of photos, videos etc..)
find the health- food shop (dried apples and prunes etc. are ace with the morning's oats)
ingredients for our "rocket fuel" (chocolate, cream, nuts, raisins, biscuits (without palm/soy oil) and nuts)
In a few hours, we'll trot off with some runners including the fantastic Kari (a friend of a friend) who is organising everything including meeting with the radio and newspaper.