While the musty smells of Autumn thread through the tree trunks of the Northern Hemisphere and golden leaves crunch underfoot, here in the Southern Hemisphere signs of Spring are becoming more and more evident. One of the strongest is her smell.
Spring hangs thick on the late evening air or rises from the sodden foliage after heavy temperate rainforest down-pours. She sweeps into our noses as we inhale running up the hills and fills our lungs as we wind by rivers and fjords. A pungent blossom landscape painted red, white, yellow and blue; sometimes honey, soon jasmine and then cinnamon.
Green-backed fire-crowned hummingbirds swoosh past a whirr of wings, Austral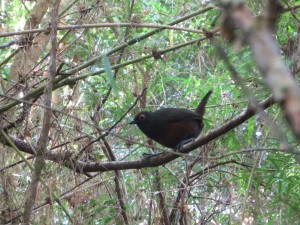 thrushes, Austral blackbirds, black-throated huet huets and chuchaos all vi to be the loudest choristers. The tiny "Chilean" white-crested elaenia gleans a fly in a flicker of wings and flash of its white crest. We lie in our sleeping bags, sun shining through the tent earlier and earlier, the birds' songs calling us to do the morning survey.
Even by night, now later and later as the sun refuses to set until after 9pm, there is bustle. The local frog quartet clatter and tap their castanets in the woods and rivers. The South American snipe rises high with its Spring courtship display shuddering his call through reverberating tail feathers in great arcs above our tent.
While one side of the world awakes, the other gently falls asleep….