The warmth of the "Homosapien Uruguayanera" is extraordinary. Our wonderful "abuelas" ("grandparents") Primavera and Angelito who live on the river bank and whose small farm we pass through every day, welcome us by their fireplace to chat, eat and watch the Brazilian soap-operas.
There is Mercedes and Reuben who milk 15 "vacitas" cows and deliver a bottle of warm milk or a sample of their home-grown pate on the river bank each day. Sarah and Jorge who have given us homemade wine, knitted a scarf for the south and whisked us around Montevideo on a tour of its natural features, boat yards and 'Englishness'! Our 85 year old neighbour, who we met whilst out running, invited us into his home for pizzas and cola and for a meeting with the three generations of his family.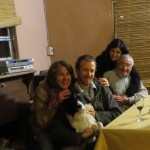 David, who arrived on a boat he made using an aeroplane propeller (!) and promptly tucked us under the wing of his family. He will transplant us and the contents of our home to his farm on the day we depart (3 days left!). The last time we left our old wooden boat she turned into a grotto and that was only for a couple of weeks, not a year! Huge pearls of water droplets glistened on the ceiling and rather than "magnolia white" the "decorators" chose a green mould hue and promptly painted all over everything!
The Uruguayans may only be 3.5 million in number (half that of London) but they pack a disproportionate generosity punch. Even on a flying visit to the capital, Montevideo, for yellow fever vaccinations and a 5000mile project school presentation, we found ourselves accosted by people trying to help the forlorn looking "gringos" and the yellow fever nurse demanding we keep her updated about our project!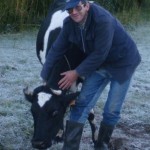 And of all this, whilst desperately trying to interpret our appalling Spanish.
Learning Spanish is teaching us so much about cultures, patience, communication, philosophy, our own language….but most of all the utter isolation felt when one cannot communicate to another human being.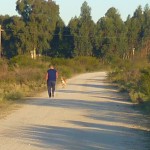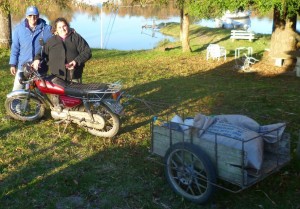 Thank goodness for these hearty souls, who interpret our chatter when it is upside down and inside out and have welcomed the loco pair of gringos who run the country lanes, "Sin zapatos y con un carrito" (without shoes and with a trailer)!