Running barefoot has been a central pillar of our run the length of South America. We trained for three months before the challenge began, re-training in the barefoot running technique (discussed previously), and working remotely with our coach using video and skype calls to check on our running form.
Using this preparation we ran 6,504 miles in 15 months.
Last week we had the opportunity to be guinea pigs in a train-the-trainer workshop in Vivobarefoot's London training centre. Better late than never we thought. And a chance to see if we had successfully achieved the transition to supreme barefoot runners, or whether so many days spent running unnaturally with a trailer had destroyed our running form.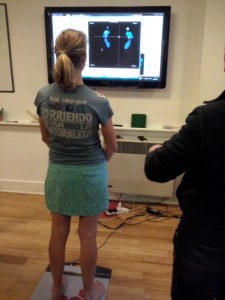 It was an insight into the world of elite training: a mix of high technology and 'no-tech' hands-on graft. We had our running form video-analysed on the running machine, worked out exactly where our bodyweight centred within the pads of our feet on an electronic sensor pad, and used simple squats to convince our minds that our bodies had the elasticity necessary to awaken the all-important tendons.
The verdict? Different positives – I have good running technique, Kath has great flexibility (but didn't seem to run with her normal form for fear of the running machine!), but both have some fairly fundamental homework assignments to overcome. Morton's Foot: apparently we both suffer from this condition, which means we need to rework our balance and foot condition.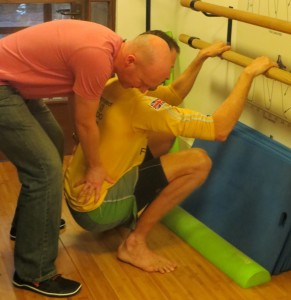 The good news: if we overcome this little hurdle then we will see improvement in Katharine's knee pain, and my slightly wonky right-leg, both of which should see us running barefoot, light-footedly with smiles on our faces for many years to come!