Question From George, Longhorsley, UK
"Why didn't you take Wellington boots with you?"
Answer: Yes, we would have loved to have a pair of Wellington boots each to keep our feet dry. A very good idea. The problem is we are pulling all our gear with us and so have to be very careful not to carry too many things. For example: I only have four pairs of pants (knickers) and David only has two, we have one tooth-brush between us with the handle cut off and can't even carry a reading book! Everything we are pulling has to "win" it's place. Our knees, hips and feet are too sore to allow anything that is not absolutely necessary to come with us!!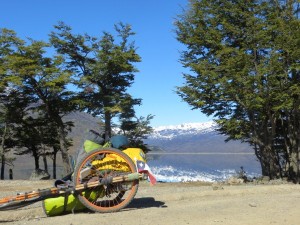 This is our trailer in which we store all our things! Here it is in Southern South America.
Do you know which country's flag we have on our trailer??!