On Monday we arrived Santa Cruz de la Sierra, Bolivia. A city of over 1.7 million people. It's the biggest city of the expedition so far. And during the course of the 21 day run from the Argentinian border of Yacuiba to this sprawling city in the skirts of the Amazon basin, we are convinced we have met a good percentage of the city's inhabitants!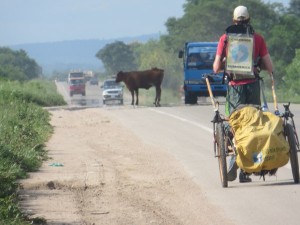 The road to the city surprised us; there was far less agriculture than we would have imagined. Instead, chaco, a type of scrubby, thorny, woodland that we had become familiar with; running through hundreds of miles of it in central and northern  Argentina, had now morphed into towering trees, leaves the size of umbrellas, lianas and air plants all vying for light and nutrients in the canopy.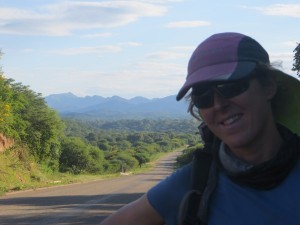 Living on and by the road has been one of the toughest parts of the expedition. One would think we should have guessed that, hey??! But wow, the constant screech of traffic, barking dogs, drifts of plastic bottles, bags and used nappies we spend our lives wading through, has made the running tougher than I could ever have imagined, completely draining me of hope.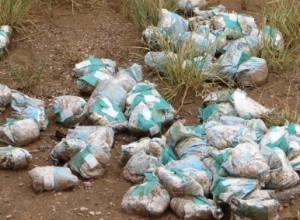 But now I feel the depression that had began to seep into  the past few months of running subside. Bolivia is four times the size of the UK, yet with a 1/6 of our population. Habitats are standing and macaws, hummingbirds and parrots are accompanying us.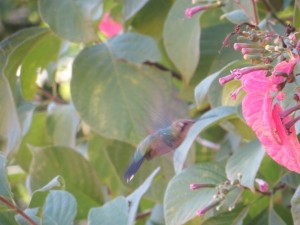 The people have also been extraordinarily kind. Every single day someone has stopped and given us drinks, empanadas and oranges…. People had always stopped and chatted, but never quite to this scale.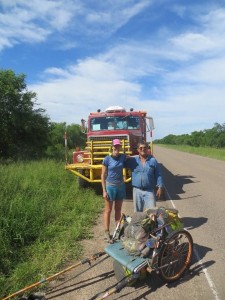 But just before entering the Santa Cruz, for a couple of hours, we slipped off the road. David had spied a single track railway on the map and worked out that we could knock a good 10 miles off the last stretch of the road. Marvellous.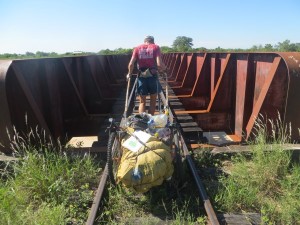 So we took to the rails, with flocks of smooth-billed anis (a black bird with a huge almost parrot like bill) and clouds of huge  mosquitoes intent on draining us of our blood. Then suddenly, through the heat haze, two red-legged seriemas appeared; our first sighting of this crazy-looking be-whiskered and long-legged-bird-beauty!
Two red-legged seriemas in the distant heat-haze on the railway with our first view of Santa Cruz in the distance.
The stunning, but critically endangered blue-throated macaw, endemic to Bolivia.
As German, one of the members of the Armonia team puts it,
"I have had the fortune of seeing the blue-throated macaw in its natural state and I want my daughter also to be able to see it flying free too".