Ugggg, we've had to stop running again!
After tumbling out of the bus at 1530 we spent the next 3 hours constructing the flat packed trailer in the village green- lots of interest (mainly from passing school children) as you can imagine!
By1800ish we were off, running south – to the point at which we would have disembarked from the boat, if we'd been allowed to cross the border. Then ran back again to Villa O'Higgins.
In total, we ran 11 miles into the dark, finally nosing our way into a wood to sleep. Very sore feet. It seemed the enforced break had created more pains rather than less?!
Next day- Friday; STUNNING. Blue sky mostly and we ran 20 miles before collapsing into a Gaucho's wood shed- marvellous stroke of luck and no rats incredibly!.
Yesterday-Saturday: pretty much wall-to-wall rain; we're running through a temperate rain forest, so what can we expect?!
But what we hadn't expected was a great shearing noise 1/4 of a mile into the run: broken wheel axle.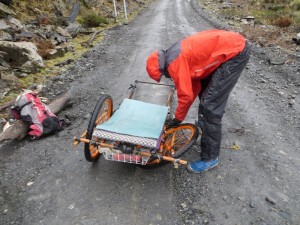 Great. Luckily Dave had thought to pack a spare, so we lugged everything back in several loads and Dave spent the next couple of hours mending the trailer while I coaxed a fire to cook us lentils….
Take 2. After a quick succession of star jumps, we stuffed our down jackets and fleeces into the kit bags and ran down the road in our waterproofs. Five miles in and we heard another ear-blistering crack……oh no.
This time there was no spare.. and no where for us to go. Not too many options either, as Villa O'Higgins, over 30 miles away has no bike shop. We decided to set up a road block.

Incredible- a small cattle lorry appeared around the corner after only about 10 minutes. The occupants finally ground to a halt a couple of metres in front of us… Hmm, five, dour faces stared a us- not a smile between them. Ahh.
We pleaded. They stared back. Hmm.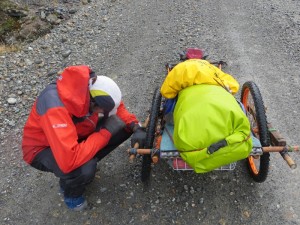 Finally one jumped out and before we knew it, we and the trailer were stuffed in the back with thankfully a half load of furniture but unfortunately no cattle!
One rattly hour later and we were let out to new pasture- well actually Villa O'Higgins again. And so here I am tapping in a hostel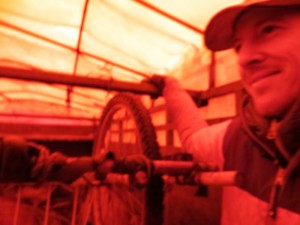 (amazing day for running, can you believe it!) while Dave is mending the trailer again- wider, lower, new found materials….
Luckily the hostel host is the local Mr Fix it and after an hour of calling around to his friends last night in El Chalten (200 miles away along the rickety road plus ferry which we soon will be running on again) managed to find someone with 5 spare axles and got them on the local bus which arrived here a couple of hours ago… Hoorah!
We just need a lift to the point where the trailer broke. We had considered running the miles, but extra miles of rickety road doesn't seem the best idea for our poor trailer with our present remote location.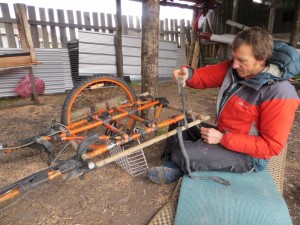 SO there is a chance we might be running again tomorrow… !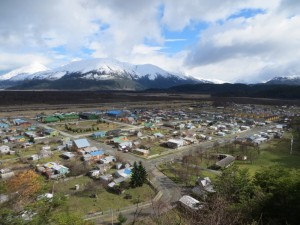 Problem is; the trailer at around 80kg is telling us that we're pulling too much for the materials we're using and the bouldery-gravelly-pot-holed substrate we're running on.
Solutions: Eat less (NO), stop carrying the Spanish book (not yet), the wildlife book (NO WAY), get rid of the IT.. Or run with two trailers?? Hmmm. Answers on a postcard, please!