On 20th October 2013, Katharine & David Lowrie completed running the length of
South America
, 6,504  miles, through the largest rain forest on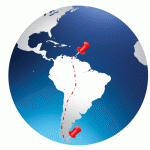 earth, th
e longest mountain range,  from the Southern Ocean, finally into the Caribbean Sea of Venezuela.
DAVID & KATHARINE RAN SOUTH AMERICA IN:

14 Months 23 Days 13 hours 55 Minutes
[button link="http://www.5000mileproject.org/run/runningstats/" newwindow="yes"] Click here for weekly running stats[/button]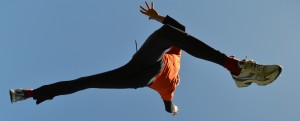 On 28th July 2012, as the Olympic gun resonated through the streets of London, David & Katharine began their own Olympics. An epic journey to run the length of South America, the equivalent of 250 marathons in 15 months, through some of the most awe inspiring and biologically rich ecosystems on earth.
From Cabo Froward, the most southerly tip of the continent and the roaring Southern Ocean, into the icy depths of Patagonian winter; plunging into the clouds of Chile's ancient tropical rainforest; ascending the mighty snow-capped Andes, before pounding into a never-ending horizon of windswept Argentine pampas; crossing the fabled Amazon Rainforest, over the Guyana Shield and into the desert-scrub of Venezuela, to finally collapse into the azure Caribbean Sea!
The challenge for David & Katharine was to complete the route whilst pulling all their expedition gear and using a new minimalist running technique.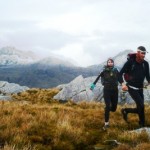 If that's not enough, they had an ambitious project to inspire and connect the people and places they meet to their online community. They use the latest technology to achieve a greater and more tangible understanding of the ecosystem services provided by South America's vast wild areas.
"We hope that through sweat, tears and determination, we'll open a portal into the last wilds of South America and rekindle people's passion for running and our amazing natural world."

Whether you're an armchair enthusiast, club runner, corner shop trader in Manaus or multinational manager in Manchester; you can get involved in Katharine & David's epic journey.
At 5000 mile project you can find David & Katharine's blogs, videos, the stats, science, mega transect and online classroom. Here people who run into the project from all walks of life can connect. You can follow the adventure as it happened, hazards and highlights, the challenges and choices; as you're kept up-to-date with the people and wildlife they meet along the way.
"Have you got a question related to the journey and South America's wild places? Well, we will seek the answers… Or if you really want to get active, you can run with us for part of the way, by committing to raise money for our wildlife charities".
And through their feat they sought to raise thousands for nature conservation along the way. To learn more please browse this website and see how you can get involved in the 5000 Mile Project!