A few days ago, David and I were "trotando (ing)"  (the new word we use to explain that we are indeed RUNNING not walking to passing Chilenos) when we bumped into a pair of Italian- Brazillian cyclists. They were lovely and we can never resist chatting… as for vast distances we ony hear our own "dulcet" tones and those of the birds. Anyway, they told us of a couple living a few miles up the road in a turf house who like to meet passing cyclists?!
Marvellous!
The trailer may not be a bike, but it has wheels and we´re journeying, so we made a bee-line.
For 45 blissful hours we became acquanted with Paul and Konomi, both "earthwalkers".  We feasted on their extraordinary life stories, the incredible view from their turf window and their organic smoothies and pancakes.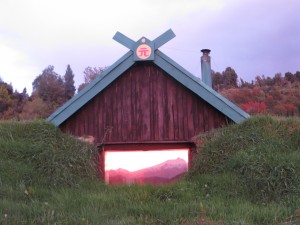 Paul has walked over 47, 500 kms through over 39 nations and planted over 100, 000 000 trees whilst spreading an environmental message.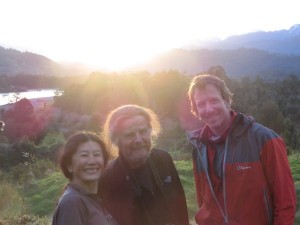 Konomi is in the middle of writing her thirteen book, in the most enchanting Japanese script. Her latest book will be about their new life living with minimal environmental impact,  completely joyously under their haunting Patagonian sky .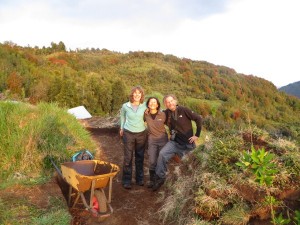 We were completely rejuvenated and uplifted by meeting them both. Two kindred soles along the long winding wild Patagonian way. We will not forget them.
Paul has written a lovely article about the 5000mileproject at ilovechile.cl . THANK YOU Paul and Konomi. Thank you!